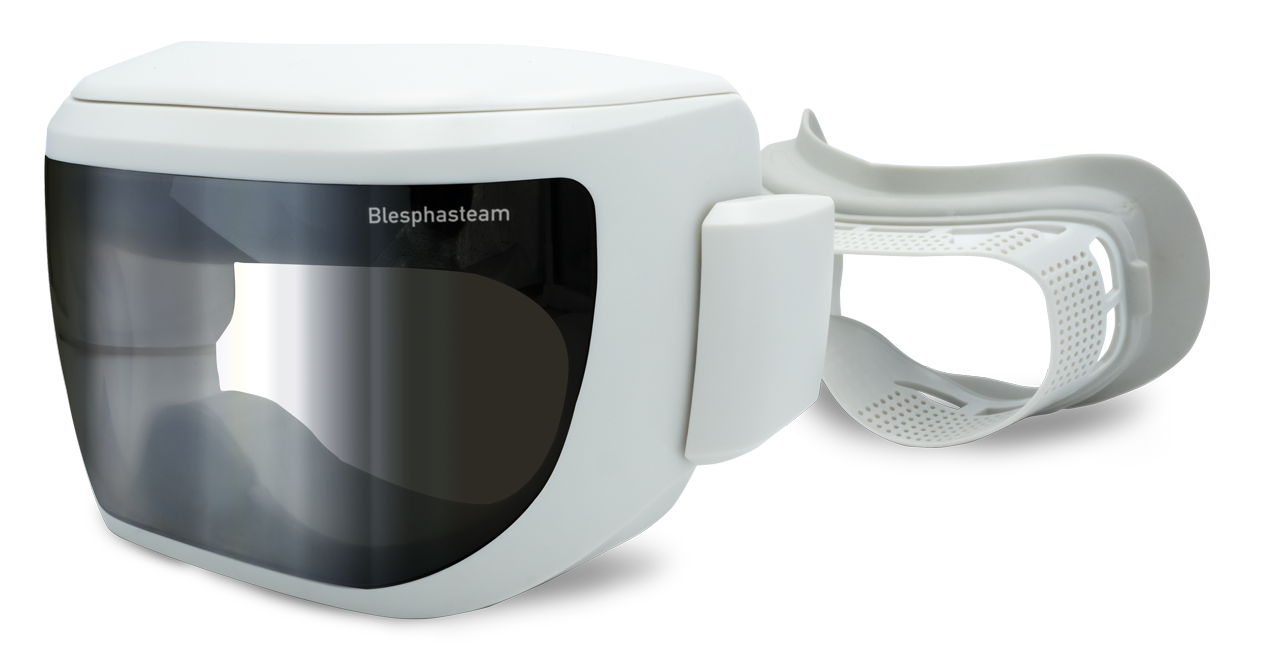 WHY USE BLEPHASTEAM® ?
1. If you suffer from dry eye syndrome or have recurrent blepharitis: chalazion or ocular rosacea; you may need quick and lasting daily comfort
2. Only a 10 minutes session leads to the relief of symptoms and improves eyelid health and daily comfort.
3. Moist heat therapy with a wireless device with clear vision. Proven efficacy and safety.
HOW TO USE BLEPHASTEAM® ?
Discover all the benefits of Blephasteam moist heat technology with this video and how to use it at home thanks to tutorial below. Read more 

Frequently Asked Question
Who can use Blephasteam®?
Blephasteam® can be used by adults(including pregnant and breastfeeding women) and children from 3 years old (with the presence of a parent or carer).
How long does the Blephasteam® warranty last ?
There is a 24 months warranty from the purchase date.
How does Blephasteam® work?
Blephasteam® safely and effectively warms the eyelids to restore the flow of oil (meibum) from the meibomian glands. The heat and moisture provided by Blephasteam® melt the secretions that block the meibomian glands in case of MGD, making it easier to remove the secretions using massage and pressure of the eyelids. Blephasteam® reproduces an environment that naturally enhances tear film quality and stability by reinforcing the thickness of the tear film lipid layer, that improves the eye surface health and daily comfort.
ABOUT THÉA
Théa was set up twenty eight years ago and has played an important role in the latest pharmacological advances. Today, it is the leading independent eye care group in Europe.
Based in Clermont-Ferrand, the laboratory has continued to expand by opening more than 30 affiliates and offices in Europe, USA, North Africa and South America. Currently, the Théa group constitutes a network uniting more than 1500 members of staff worldwide, with its products available in more than 70 countries.
Théa is an independent family group, developed from a Research and Development start-up by Henri Chibret, a fourth generation member of an ophthalmic dynasty. Jean-Frédéric Chibret has presided over the company since 2008, with Henri Chibret remaining at the head of Théa Holding.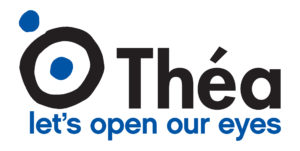 To report an adverse effect, contact our local offices http://www.laboratoires-thea.com/en/our-implantations/thea-world, or contact the Pharmacovigilance department of our laboratory at to the following email address : global safety: Global.Safety@theapharma.com. Your personal information is collected and processed by Laboratoires Théa for the purpose of responding to your request, in accordance with our Personal Data Protection Conditions. This information will be kept for the applicable legal period and will only be accessible to authorized personnel of Laboratoires Théa or its subsidiaries, as well as to its duly authorized service providers.
You have the right to access, rectify, and in some cases delete this data. For any request, please contact us by email at privacy.corporate@theapharma.com or by post at Laboratoires Théa, Personal Data, 12 rue Louis Blériot, ZI du Brézet, 63100 Clermont-Ferrand.